Fuel Delivery for New York City, Nassau and Westchester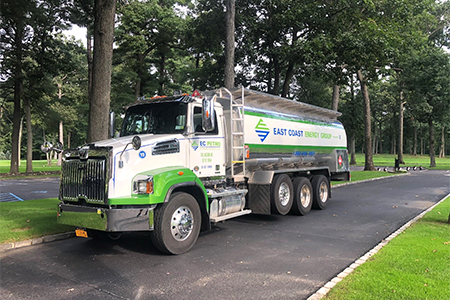 East Coast Petroleum delivers heating oil, Bioheat® fuel and clear diesel to the metropolitan area and beyond.
Commercial properties, hospitals, multi-family properties and single-family-home owners rely on East Coast Petroleum for on-time delivery of their heating fuel, skilled service technicians, and rapid resolution of any problems.
Our partner companies throughout the East Coast group of companies ensure that every customer receives superb mechanical systems maintenance and round-the-clock support.
Residential and Commercial Customers turn to East Coast Petroleum for:
24/7/365 Emergency Service
Quality heating fuels
Automatic delivery
Bioheat Fuel
Courteous, professional service
Price protection and budget plans
Our Fuels
Bioheat® Fuel

Bioheat® fuel is a blend of renewable biodiesel and ultra-low sulfur heating oil that is a direct replacement for #2 heating oil. Every gallon of Bioheat® fuel used reduces carbon emissions, sulfur, and other greenhouse gases.
Our Bioheat® fuel contains at least 5% renewable biodiesel, meets all state and city requirements for liquid heating fuels, and is on a path to net-zero carbon emissions by 2050, if not earlier. Bioheat® fuel meets PlaNYC requirements to transition to clean fuels by 2030.
Bioheat® fuel is made by combining ultra-low sulfur heating oil with biodiesel, which is created from renewable resources such as recycled cooking oils, soybean oil, peanut oil, sunflower seed oil and other feedstocks. The fats and oils used for biodiesel are all co-products or byproducts of agriculture.
Clear Diesel Fuel
Clear diesel is a road-vehicle grade fuel that is available for sale at gas stations throughout the U.S. This type of fuel is meant for use by the vehicles that travel the roads every day – cars, trucks, SUVs, etc. – along with marine vehicles. When most people think of diesel fuel, this is the fuel they think of.
Clear diesel has low sulfur levels and is legally taxable. Any vehicle that has a diesel engine and is licensed by the state for on-road use must use this fuel. East Coast Petroleum provides clear diesel throughout our fleet fueling services.